Jimmer can still work out his game to become at least a decent rotation player or even better. One year of adjustment will be enough, a little tweak on his game could be the key to finding success in the NBA. If you take a look at some good players, some of them struggled in their first season but used it to improve their game. Let's take a look at how can Jimmer Fredette can improve his game.
He's good in creating contact.
If you watched the summer league, Jimmer Fredette didn't impress us much in efficient field goal percentage but he still manage to fill up the points. He surely make up in free throws. He's a good free throw shooter shooting around 85-90%. He has upper body strength, which he can used in driving and creating contact. We saw him struggle in making lay ups since he is always blocked. Then this could be a key for him to be effective in the hardcourt.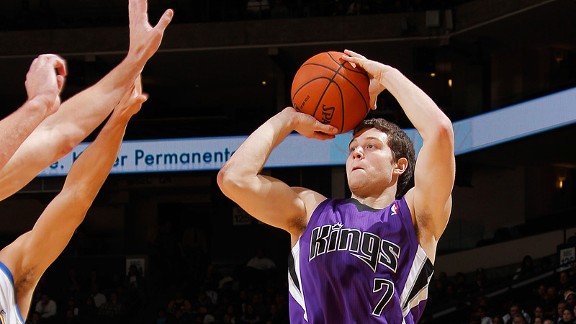 Once he get hot, he pours it!

Even though he struggles in his rookie season, in some of the games, we still able to watch how a great shooter he can be. He surely can shoot the ball everywhere in the court and all he need to do is to get hot. In some reasons, he just can't be consistent on it. Once he find a way to be consistent, he can be dangerous, so don't count him out.
Improve his floater or close range shots.

Since he can't drive past the defender and have a lay up, then a floater or close range shot can be the best option for him. This is a high percentage way of scoring for him to improve efficiency. He fires too many long range shots which result to 38% field goal rookie season.


Since he was drafted by the Kings, I knew he'll struggle since the Sacramento Kings are already filled with guards. They got Thorton, Evans, Salmons, Garcia, Thomas. If you watch their games, Tyreke and Thorton carry the ball most of the time and they are the one who create offense. This means a lower assist for Jimmer on the stats. If you gave him significant role on a team wherein he'll have more time on the court and have the ball in his hand, he could have played his game. He's the kind of player that needs more touch in order to be effective.


The main reason for his struggles in his rookie season could be his lack of confidence. As a rookie, from college where in he is the go-to-guy on a winning team to NBA a bench player on a losing team. (but Kings have a bright future.) These factor could affect his game on every area. The best chance for Fredette is to start over new with much significant role somewhere else. No one could tell, he just might be the next big story of this upcoming season.
If you have any thoughts or would like to comment on this post, we'd love to hear them on the comments section below.