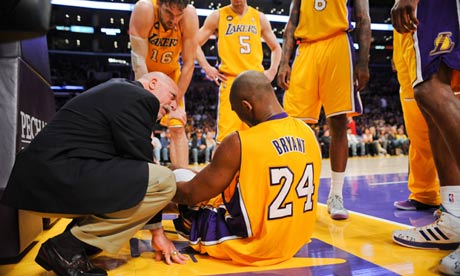 pic: Guardian.co.uk
While the Lakers struggle to make it past the regular season and into the playoffs, yet another major hurdle has beset them. And this hurdle came from an unlikely source - from one of their own teammates in Kobe Bryant. The NBA superstar and veteran's 17th season could be cut short after he suffered an injury to his Achilles heel following a seemingly innocent drive to the hoop past his defender. The injury came after Friday night game between the Lakers and Golden State Warriors.
Kobe was seen in crutches after walking out of the locker room wherein the media greeted him. When asked about his injury, he said, "it just popped", referring to his Achilles tendon. Despite being taken out of the game, though, the Lakers still managed to get a win over the Warriors via a 118-116 game.
To say that the fact that Kobe will be sidelined due to injury for the rest of the season will impact the Lakers' bid in the playoffs is an understatement. After all, he is the fourth-leading scorer in the history of the league. This is only the second time that Kobe will miss the post-season.
But given the superstar that he is with several championship rings under his name, he refuses to be overcome by this injury. Bryant, who averaged 27.3 points and played an average of 41 minutes in the past 6 games by the Lakers, said, "I know I can do this," when many had questioned whether the 34-year-old has seen the few remaining years of his career.
The injury took place during the early part of the second half. He hyperextended his knee while driving to the basket and fouled. He managed to sink in a couple of free throws after the call but hobbled his way to the locker room. Eventually, he did not see action again for the rest of the game. The 5-time NBA champion had already been scheduled to undergo MRI on Saturday.
Click this link to view his interview with the media and hear his thoughts about the injury, as well as the chances of his team going into the postseason:
Do you think the Lakers can survive the postseason even without Kobe?