Four game dates in and both semis series are tied. Both the Talk N Text Tropang Texters and Alaska Aces snagged a win in the second game off of their respective series, which brings the competition back to square one. With only three games left, Game 3 of the series is going to be crucial because it means the winning team has one foot in the Finals seat of the ongoing PBA 2013 Commissioner's Cup.
Talk N Text def. Ginebra (85-79)
When Talk N Text dropped the first game of their semis series with Brgy. Ginebra, many feared that the latter will pull away and that Talk N Text will be history. But like the true warriors that they are, they managed to pull off a win last Sunday to even up the series. They were down 9 points heading into the fourth quarter but staged a rally with Ranidel de Ocampo scoring 10 points in the fourth quarter alone despite nursing a foul trouble. But it was his three-point shot under the final two minutes of the game that closed off any possibility of Ginebra making a come back and securing an early series lead.
Head coach Norman Black viewed that game as a do-or-die situation for his team because he said "0-2 is a difficult situation." He added, "we have to survive and tie the series or we're in big trouble."
Defense was key part of Talk N Text's success in Game 2 of the semis as they held down Ginebra to below 80 points in this game, a stark contrast from the Game 1 result wherein they scored over 100.
TALK N' TEXT 85 – Castro 22, Alapag 17, De Ocampo 16, Jordan 14, Carey 6, Al-Hussaini 5, Reyes 4, Aban 1, Raymundo 0, Fonacier 0, Ferriols 0.
BARANGAY GINEBRA 79 – Raymundo 17, Macklin 15, Urbiztondo 15, Helterbrand 12, Tenorio 8, Ellis 6, Taha 2, Baracael 2, Maierhofer 2.
Alaska Aces def. San Mig Coffee Mixers (86-67)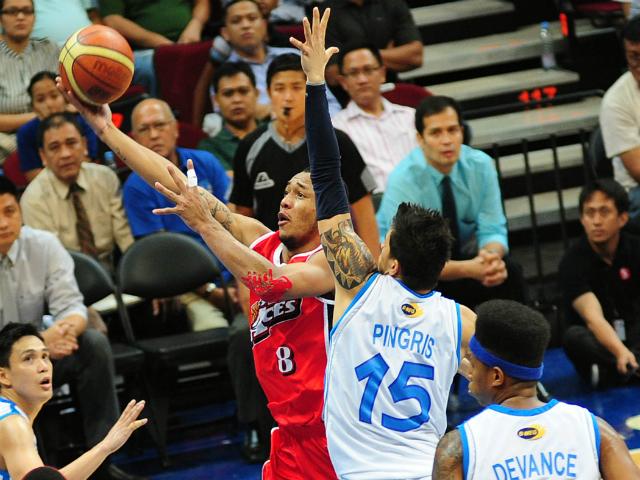 Like Talk N Text, Alaska Aces also revitalized its chances if making it past the semis round after beating the San Mig Coffee Mixers during Monday's game in the PBA. Rob Dozier had a monster performance, fueling his team to its first win in this

series.
Dozier tied his career high in the PBA of 28 points along with 27 rebounds (the new season-high) and making it the team's first win against their former coach. Before this game, Alaska has lost 9 games to San Mig Coffee Mixers in a row so they not only tied the series but also broke that losing skid. According to Aces head coach Luigi Trillo, "it's a battle between two competitive teams, and it's playoff time," noti

ng the rugged moments that transpired during the game.
Defense

was the name of the game as San Mig was limited to only 14 points each during the first two quarters.

On the third quarter, they only slightly improved their offensive output to 16. The lone bright spots for the Mixers were PJ Simon and Joe Devance. Meanwhile, Jayvee Casio and Gabby Espinas helped ou

t their import.
ALASKA 86 – Dozier 28, Casio 16, Thoss 8, Baguio 8, Hontiveros 5, Espinas 4, Jazul 2, Laure 2, Dela Cruz 2, Bugia 1, Ramos 0, Reyes 0, Eman 0,Belasco 0.
SAN MIG COFFEE 67 – Devance 15, Simon 15, Bowles 8, Yap 5, Barroca 4, Alvarez 3, Mallari 3, Pingris 3, Reavis 3, Ponferrada 2, Gaco 2, Najorda 2, De Ocampo 2, Pacana 0, Gonzales 0.
If you want to know more about the rest of the Semis schedule, you can check my previous post here.
Disclaimer: Photos and box scores courtesy of www.pba.ph